Popular Chief In Oruarivie Abraka Kingdom, Sunday Ogune Dies At 76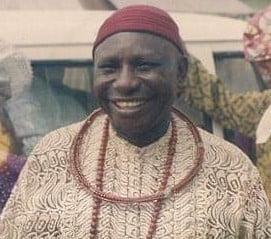 By Daniel Dafe
A popular chief in Oruarivie Abraka Kingdom, Ethiope East Local Government Area of Delta State, Chief Sunday Ogune has died at the age of 76.
According to a family source, Chief Ogune died at about 5.30 p.m. on Thursday, 9th July, 2020 at the Eku Government Hospital, Eku after a brief illness.
Speaking to Oasis Magazine (OM), Ochuko Ogune, a son to the deceased, said that the news of his father's death came as a shock, adding that his demise was a colossal loss that has created a huge vacuum in the family and Oruarivie Abraka Kingdom.
He continued: "My father was a foremost politician in Abraka. When he was the Chairman of United Nigeria Congress Party (UNCP) then, he produced the Chairman of the Local Government Area, Hon. Akpede and all the nine councilors."
He added: "My father has served Abraka meritoriously. When Abraka was not split into Oruarivie Abraka and Umiaghwa Abraka Kingdoms, he was the Otota of Abraka Kingdom under HRM Luke Ejowhomu, Adakaji 1 of Abraka Kingdom.
"Until his death, he was the Onotuku (in charge of security) in Oruarivie Abraka Kingdom, a role which during foreign invasion it is his duty to mobilize warriors to fight against such. He can thus be described as the chief warlord. Also during cultural festivals, it is his responsibility to take warriors to the bush for some rites associated with the event.
"Apart from all these, he also served the Nigerian military and until his death was a military pensioner."
Late Ogune is of the Urogo Ruling house in the kingdom. He is survived by two wives and fourteen children.