Okpe [email protected]: Interim National Executive Commends Founding Fathers, Orodje, Okowa, Others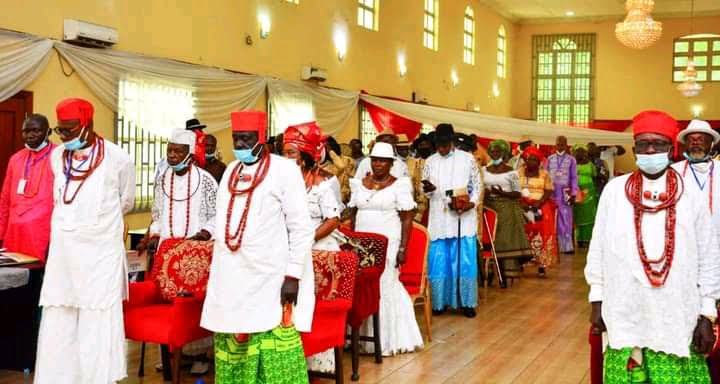 By Daniel Dafe, Abraka
The Interim National Executive Committee of Okpe Union, has felicitated with all Okpe Indigenes as the body clocks 91 on Sunday, 16th May, 2021,
A statement signed by the President General (Interim), Professor Emurobome Idolor, said "on this auspicious day which is meant to commemorate the genuine affection of the founding fathers in the 1920s and officially registered with government in 1934, their achievements which include and not limited to the reactivation of the traditional rulership stool, tertiary scholarships for studies abroad, and visible involvement in litigations to retain the expanse of Okpe territory cannot be forgotten in a hurry."
Adding: "Indeed, it is our schedule to publish an in-depth history of this foremost Union in Nigeria."
While commending his kinsmen, Idolor said: "I sincerely appreciate you all particularly for your stake with us through thick and thin to achieve the peak success of the just-concluded 2021 annual conference."
According to the statement, "all branches in their respective locale should endeavour to celebrate this day as "Okpe Day," saying that at the National Secretariat, Orerokpe, in addition to the celebration, there will be a press briefing."
ALSO READ: Lagos Bans Flights From US, Canada, France, Germany, Others
Professor Idolor in his statement disclosed that there will also be a courtesy visit to His Royal Majesty, Orhue 1, CFR, mni, the Orodje of Okpe kingdom.
Speaking on the the security threats in the country, he said the situation "is giving everyone a deep concern that we cannot be complacent and uninformed."
Furthermore, he directed that based on the security threats in the nation, "the Okpe Day celebration should be decisively done with caution."
Meanwhile, he thanked the Governor of Delta State, Sen. Dr. Ifeanyi Okowa for his contributions towards the development of Okpe nation.
His words: "We want to thank His Excellency, Senator Dr. Ifeanyi Arthor Okowa for the Commissioning of the Oha bridge recently. Most especially is the hosting of all Southern governors and the twelve key resolutions from the summit. Thank you very much, Sir."
Furthermore, he also appreciated His Royal Majesty, Orhue 1, the Orodje of Okpe kingdom, the Okpe Leaders of Thought and all stakeholders of Okpe Union, noting that they have contributed to the success story recorded by the executive.