2023: Group Urges Tinubu, Others To Back South-East For President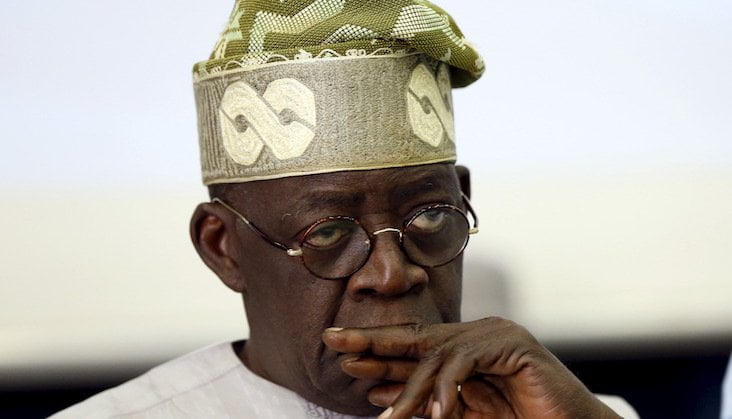 A group, South-East Youth Leaders (COSEYL) has called on former Lagos state governor and All Progressives Congress (APC) National Leader, Bola Tinubu, to jettison his rumoured plan to succeed President Muhammadu Buhari.
Leaders of the group urged Tinubu to support the emergence of a president of Igbo extraction in the 2023 presidential polls.
The group said everything short of electing an Igbo as president in 2023 would be regarded as a rejection and asking Igbo to leave Nigeria.
President General of the group, Goodluck Ibem, said COSEYL was ready to mobilise Ndigbo at home and in the diaspora, towards the realisation of the dream which he said, was long overdue.
He said the Igbo nation, had, in the past, supported candidates from other zones to become heads of the Nigerian government, and produced leaders that helped to build the country.
Meanwhile, Bayo Osiyemi, a former chief press secretary to Governor Lateef Jakande of Lagos, has joined those canvassing for a Bola Tinubu presidency.
Osiyemi who said he has never been passionate about any Nigerian politician after Chief Obafemi Awolowo and Jakande, the way he has taken to Tinubu, is of the opinion that the former Lagos state governor can fix the challenges currently witnessed in the country.
ALSO READ: Arewa Youths Reject Mamman Daura's Call To Drop Zoning In 2023
"I practice and play partisan politics in Lagos, so he is undoubtedly my political boss. But beyond that is a fact of history which cannot be obliterated.
"From my first encounter with the man that appropriately fits the label of "small body, big engine," Senator Tinubu struck me as a man of destiny on who jealousy, envy, treachery and perfidy cannot diminish," he wrote on his Facebook page.
Meanwhile, Mukhtari Shehu Shagari, a former Nigerian minister, has declared that the furore generated by power shift and zoning in the country is healthy but stated that there is no law stopping prominent people from other regions from contesting for the 2023 presidency.
Shagari, who served as water resources minister under President Olusegun Obasanjo between 2001 and 2007, made this known while dabbling into the recent conversation generated over renewed interest in 2023 politics.