School Fees: Trouble Looms, DELSU Students May Hit Streets On Monday In Protest, Allege 4.5% Reduction, Not 15% As Agreed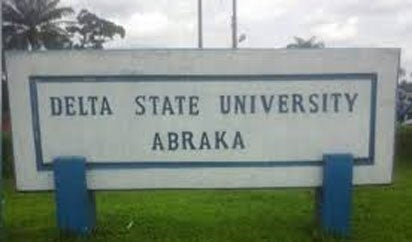 By Daniel Dafe, Abraka
Oasis Magazine (OM) has learnt that students of Delta State University (DELSU), Abraka, are to hit the streets on Monday over alleged failure by the university management to keep to the agreement of 15% reduction after several meetings with students representatives.
A statement by a student leader who gave his name as Obaro Alagun, said if others are afraid to lead the protest, he would, adding that the management reneged on the agreement reached durimg the meetings with NANS and other student unions to reduce the fees by 15% after it was increased by the Egwunyenga-led administration.
His words: "When the school fees was increased and we had series of meetings, we grudgingly agreed on a 15% reduction of the fees, only for DELSU to open portal and reduce the fees by 4,5 and 3.5% as the cases currently are.
"We have consulted the school management to adjust the fees to the agreed 15% and they stood their feet that the 15% reduction is the added amount, this is too cheap to be accepted by Nigerian student and youths association Delta state Chapter and NANS JCC, Delta State.
ALSO READ: JUST IN: Again, DELSU Mgt Meets With Students' Reps Over School Fees Increase…SEE RESOLUTIONS
"We have given them a stipulated amount of time to adjust the fees or they leave us with no option than to join the aggrieved students on a massive but peaceful protest."
"I am Obaro Stephen Alagun (Aluta Apostle) and i know my right as a student, if anyone is too afraid to fight for what is right i will lead the students on the protest.
"The management of Delta State should see this as our last warning having breached the agreement reached on the 23rd of March 2020, they leave us with no choice but to step onto the confrontational stage."
According to him, "if the school management refuses to adjust the school fees to the agreed 15% reduction before close of work Monday, April 19 (4pm)", they will come out to protest.
Continuing, he said, "the protest wont be for a 15% reduction again because the agreement has been breached and will no longer be valid, so the school fees should be returned to satus quo (last year fees)."