The Misfortune Of PDP In Delta Central Senator I District In Recent Times NAD The Need To Try Another Leg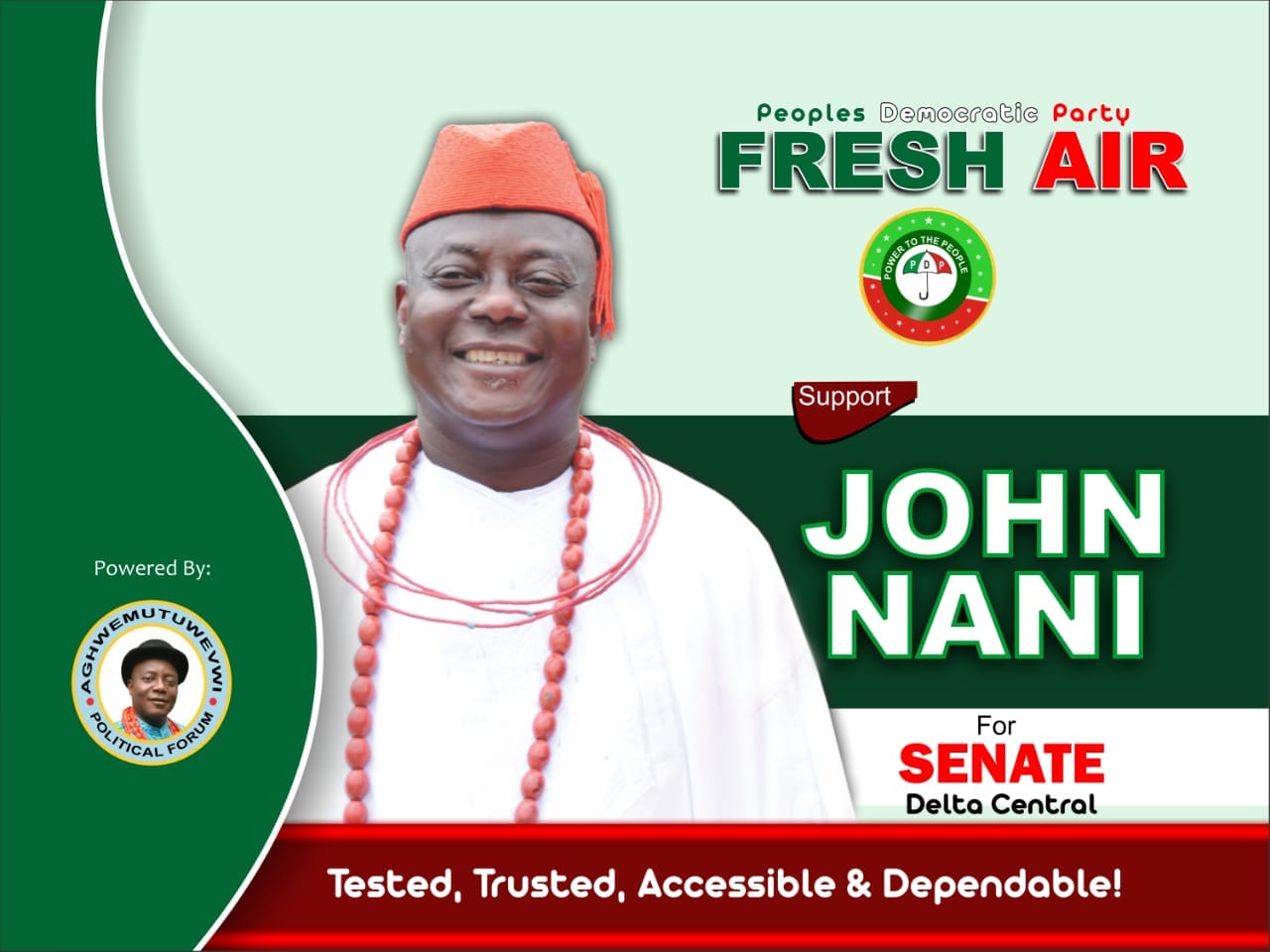 By Sagboje, O. M
From the inception of the Fourth Republic, till about 2011, the Peoples Democratic Party, PDP, in Delta State, had its hotbed in Delta Central. The party practically dominated all strata of political leaderships within the District – from the very mightiest position to the minutest – until things fell apart as a result of greed and lack of sensitivity to the voice of reasoning.
Meanwhile, before the ship of the party in the District got marooned by a crop of disgruntled and selfish elements, who junketed everywhere within the political space with a larger than life attitude, winning was more like the birthright of the Peoples Democratic Party, (PDP). Resounding victory at polls occured serially and without stress. It persisted to a point that Delta Central could be termed PDP, and PDP was Delta Central.
ALSO READ: Joel Onowakpo Reacts As Chris Ekiyor, Others Join APC
However, the party that once dominated and exercised its superiority in governance as far the Delta Central Senatorial District was concerned, started losing its dominance to opposition parties because of one grave and unpardonable mistake: fielding a candidate with a questionable character as far the Urhobo nation is concerned. To be brutally frank with ourselves, the Senatorial dominance which the PDP enjoyed and would have continued to enjoy, became impaired and unarguably a pipedream from that moment. That singular action inflicted upon the party, undeserving injuries. The scars from that knockout are still limiting the party and intensely acting as clog in the wheel of her progress. To make matters worse, this same serial failure, whose greed for power has left us in shambles, is still being repackaged for marketing. In my candid opinion, this is a glaring case of reinforcement of failure. Leadership is explained and best defined by assessing the personal characteristics and life histories of the individual involved. It therefore implies that fielding candidate(s) with a deluge of failures, is tantamount to dazing our party with another dark future of political docility.
The above script of shame has lingered for a long time and should be nipped in the bud now. A stitch in time saves nine.
We cannot mindfully afford to embark on another lap of failure. We have stayed on this mountain for too long, and it is time for us to move forward! It is time to move forward and assume our usual vantage position in the Delta Central political space. It is time to rise above the sectional pressures and the crude horse-trading of narrow career interests that some politicians are immersed in.
Therefore, we must equally do away with the ill-fated candidates, whose actions and inactions have seemingly tore our symbolic "Umbrella" and have by their unpropitious actions, invoked on us heavy rains, which is making us develop cold feet, in a once conquered territory.
Of course, everyman has an inalienable right to vote and be voted for. Nevertheless, we must not forget that the easiest way to situate insanity is doing one thing again and again and expecting a different result, yet, we remain glued to it, and adamantly too. The sacred truth is, one cannot keep doing one thing by using same tactics and expect to get a different result(s). Hence, we must act like the fictional title of Benson Omonode: "TRY ANOTHER LEG". Enough of the recycling madness frustrating our concerted efforts to shape our party and make our society a better place, through our political ideologies. The old path has not yielded the much desired end, therefore, we must look elsewhere. Let's submit to charismatic leaders that are backed by a wide range of the masses. Unpretentiously, it is time to try another leg. Trying another leg in this case, means, doing away with candidates that have inflicted on us, shame in time past.
Now that another electioneering year is fast approaching and we are making concerted effort to put our shackled and almost ruined house in order, we must not be quick in forgetting, in the words of Achebe, "where the rain started beating us" as a Senatorial District. We must root for a viable and reliable candidate. We must discard and disregard those politicians with track records of habitual failures. They and their cancerous ambitions must be rejected. Our arms should be open wide to politicians with far-reaching influence and general acceptability in order to restore the departed glory of our party in Delta Central.
It is time to take back our mantle and highly esteemed position as far as politicking is concerned in Delta Central. Those habitual failures cannot be our redeemers; hence, we must try another leg to get it right!
Support Olorogun (Barr.) John Obukohwo Nani for Senate and let's collectively consolidate and amplify the voice of the Urhobo Ethnic Nationality in the Nigerian Senate.
#JohnNani4Senate #AghwemutUrhobo_2023 #UrhoboYomaWithJON #UrhoboBetaWithJohnObukohwoNani #PDPReclaimDeltaCentral