Flood: Ndokwa East LGA Writes NIMASA, NPA, NIWA Others For Relief Materials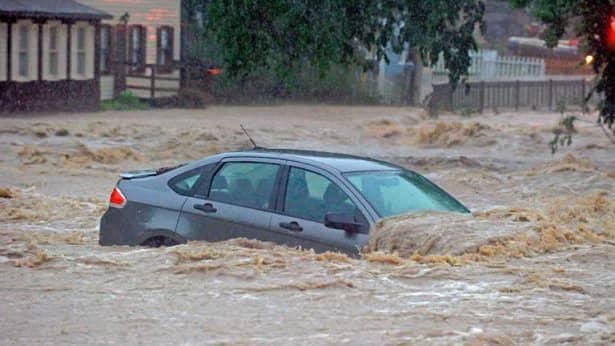 The Ndokwa East Local Government Area of Delta State on Wednesday , appealed to relevant government agencies under the Federal Ministry of Transportation to assist in the already displaced people in affected communities by flood saying that the number of existing Internally Displaced Persons (IDP) camps were increasing due to the continuous flooding .
According to a statement e-signed by Juan Amechee Governor, the Ndokwa East LGA Chairman, there are indications that the people at the IDP camps may experience some level of sickness due to the scarcity of portable drinking water and conducive environment adding this is the time that the agencies and other well meaning humanitarian institutes should rise up to the occasion.
ALSO READ: Jega To INEC: Use Of BVAS Or Electronic Transmission Of Result, A Must In 2023
Governor in the statement sent to the Minister of Transportation Mu'Azu Sambo, Director General, Nigeria. Maritime Administration and Safety Agency (NIMASA),Dr. Bashir Jamoh, Managing Director, Nigerian Ports Authority (NPA) , Mohammed Koko Bello and Managing Director, National Inland Waterways Authority (NIWA), Chief George Moghalu disclosed that the most common risks associated with the flooding is the contamination of drinking-water facilities, and standing water, which according to him, can be a breeding site for mosquitoes, chemical hazards, and cause injuries.
The Chairman reiterated that With the persistence of the current 2022 floods, people are adviced to do everything possible to stay safe noting that "Since floods can potentially increase the transmission of water- and vector-borne diseases, such as typhoid fever, cholera, malaria, and yellow fever, among others, it is important to know the potential risk and protect all water sources."
TThe NELGA boss noted that "We are writing this letter to appreciate your organization for all the assistance to us since we started experiencing severe annual floods in Ndokwa tast LGA and we want to express our immense gratitude towards the various facilities and benefits which your organization has been providing to the Niger Delta region in general.
"These benefits encourage and inspire us to work whole heartedly. We are therefore greatly thankful for the priceless collaboration with your organizations.
"As you aware of the havoc caused by flood in our LGA which have taken homes from many of our brothers and sisters and we plan to ensure that the flood impact is minimal on our people as we are often marginalized with respect to meeting the needs of our LGA in the area of assistant from State and Federal towards evacuation of people to a safe haven, preparation of the IDP Camps, provision of basic needs in terms of food stuff, mosquito nets, portable water
(sachets or bottled), toiletries (soaps. detergents etc.). Medications especially for malaria.
"We are in need of assistance to meet our programs towards addressing the subject matter and would be extremely glad to have your support at this point in time.
Continuing, the Chairman also lamented that flood has taken a new dimension in the various communities affected so far as against what was experienced in 2012,, adding that as at Wednesday 12 October 2022, a total of six deaths has been recorded due to the flooded.
He said "No doubt, this year's flood has taken a new dimension in NELGA far beyond what we experienced in that of 2012. As at today, we have recorded six deaths in the LGA with the entire LGA flooded beyond what anyone familiar with the LGA would have imagined. Please remember NELGA in our prayers.
"Although we experience annual flooding in the LGA and therefore have proactive programs that ordinarily would work effectively pre, during and post flood but this 2022 flood has surpassed what the LGA can manage as it has beaten all our predictions, strategies and plans. It therefore calls for upping our games in the future.
"As earlier announced, there are two IDP camps in Kwale (the state IDP camp at Utagba Ogbe Technical College, Kwale and the one set up by individuals at the NDDC facility at the General hospital road, behind Eco Bank also in Kwale). Although the setting up of the camps came late into the floods when majority of our people have relocated to families, friends and well-wishers in unflooded towns and cities, we are aware that a few of the NELGA IDPs (particularly those from Okpai, Beneku and Utchi are in these camps.
"While it is true that the camp approved for NELGA was put on hold due to the access roads that have been taken over by water, the NELGA flood committee is reaching out to the various IDP camps to ensure that all is well with our people in the camps without interfering with the camp processes since we are not involved in the running of the said camps.
"One area of major concern to us at the moment, having failed in all proactive measures put in place is to focus on how to resettle our people as soon as the flood starts receding. Apart from foodstuff and key households' essentials, a major focus would be early fumigation of the communities before people start going back to resettle back in their flood displaced communities, followed by agricultural aids to enable the farmers go back to farm.
"We have also made arrangements for short term harvestable crops to aid their farm produce and source of income as a post flood relief measures by the council.
'We are also warehousing donated items to be distributed post floods to the various communities across NELGA. So far, we have received some items (twenty five school sized mattresses) from Chorus Energy Ltd., an Oil Company operating in NELGA.
"On the Council's end, thirty bags of rice, forty cartons of noodles and some quantity of toiletries have been procured to be distributed post flood.
"Our people are therefore encouraged by all means to protect their health during the flood period by knowing the community's evacuation route, warning signals, and identifying areas prone to flooding or landslides.
"Chlorinating or boiling all water for drinking and food preparation where possible, ensuring uninterrupted provision of safe drinking water is the most important preventive measure to be implemented during flood, in order to reduce the risk of outbreaks of water-borne diseases.
"Promoting good hygienic practices and safe food preparation techniques,Do not use flood water to wash dishes, brush teeth or wash and prepare food. Always wash your hands with soap and water if you have been in contact with floodwater and avoiding walking or driving through flooded areas and standing water. Even the smallest amount of water can bring about significant dangers. You do not know if electrical lines have fallen in the water or hazardous chemicals exist. Cars and people can easily be swept away during a flood."
He further explaned that throwing away any food that has come in contact with floodwater adding that it is not safe to eat and increases risk of water-borne diseases.
"Safely cleaning your home and surrounding if it has come in contact with floodwater. Throw out any items that cannot be washed and cleaned with bleach, such as pillows and mattresses. Clean all walls, floors and other surfaces with soap and water, as well as bleach.
"Protect against mosquitos. If your home is in an area with stagnant or standing water, use mosquito net or repellent if available. Also wear trousers and long-sleeved shirts, and cover beds with mosquito nets when sleeping" he added.